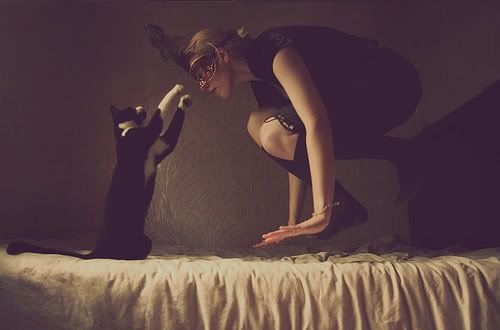 autoportreti "Ole Dios" i njene macke su "bezobrazno" dobri, baš!
kada sam prvi put naisla na njene fotografije, zanemela sam. eto - toliko mi se svidelo. citav njen flickr je prepun ovakvih malih "projekata" u kojima njih dve bukvalno
luduju
.
sve fotografije su izuzetno bajkovite... i smesne! smesno mi je sta je sve uspela da uradi sa tom zivotinjom, jer meni kao nekadasnjem vlasniku macke,
nikada
ne bi palo na pamet da do te mere "deranžiram njeno visocanstvo".
" a world of strange, worm magic!"
ili

"the first time I saw her photos, I thought - this is the kind of world I'd like to live in"
- ovo su komentari koje sam zatekla na njenom profilu.