Villa Julia Cardboard House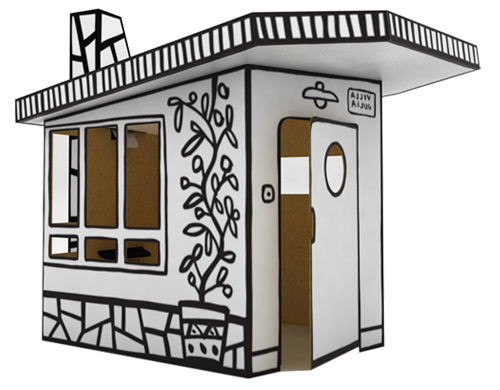 bože, kakvo zezanje! u pitanju je, dakle, itsy-bitsy kartonska gajba uz koju se dobijaju i stikeri za dekoraciju. za samo 150 funti , tačnije nekih 230 dolara dobijate ovaj kartonski dom by

Javier Mariscal

.
L
iya Mairson
je autor ovog "
cardboard folding play area", koji je po meni ultimativno ...
mmmmm?...
what's the word?
genijalna?...

nah..

.

čarobna?...

nnnn...ne. nešto veće, bitnije...

ultimativno carska stvar!
obratite pažnju na policu na zidu. priceless!
dakle - mali, privatan univerzum,
nevidljive granice,
oplemenjeno detaljima - vratanca, prozorče, a možda i polica, kredenac, šta li već. na slapanje i rasklapanje.... little piece of cardboard heaven.
g
ives new meaning to living in a box,
doesn't it?