♥ book of lists by Mia Nolting
Presladak, intiman pokušaj da se razume i pronađe neko svoje mesto - ilustrovan kroz liste koje možete da pronadjete na njenom Flickr-u. Kompletan set je njeno lično putovanje to tog mesta, sa sve "geografijom o odmorišnim tačkama". :)
♥ kad smo već kod geografije - mapping stereotypes!
 Europe according to USA
 Europe according to Germany
 Europe according to gay men
Najfenomenlnija stvar na koju sam nabasala u poslednje vreme. Opasno dobro sam se zabaljala pročavajući ove pritove by Yanko Tsvetkov. (pozdrav za gospodina Oršolića)
That reminds me – u svetlu svega onoga što se juče izdešavalo na beogradskim ulicama… naprosto moram nešto da iskomentarišem, sad kad sam se već dotakla stereotipa i predrasuda.
Kulturološke, rasne, religijske ili kakve god već razlike (pa i seksualne, zašto da ne?) služe svima nama da nas oplemene i poduče. To je isto tako, između ostalog ta veličanstvena raznolikost kojoj se svi divimo u ovom ili onom obliku. Biti gay u Srbiji danas, znači nositi jedno ogromno breme i retki su ti koji su dovoljno sposobni i snažni da to breme povuku. Činjenica da je Pride održan (bez obzira na sve što se izdešavalo) – za mene je trijumf. Trijumf nad primitivizmom,uskogrudošću i provincijalizmom.
♥ Colorful Plates
Dođe mi da zacičim od sreće kad naletim na neki ovakav slasan šareniš. Neprekidan niz božanstvenih boja… Sva raskoš sveta poslužena na pladnju. Bukvalno.                   
pics via lulaland
♥ Lemon Yogurt Parfait
ok, svi vi ste do sada čuli/pročitali da I suck u kuhinji, big time. (pročitala sam negde da je Gina Lollobrigida jednom prilikom izjavila nešto slično i dodala " ali niko kao ja ne ume da sredi kuću". e pa potpisujem.) U svakom slučaju, trudim se… onako. Za sad se još uvek držim grašak, meso, salata … musli…puding….supa iz kesice. Uglavnom, dostojanstveno gubim.
However, pronalazim receptiće koje iskušavam. Obično su vrlo basic, neobavezujice varijantice. I moram da priznam da ponekad upali, kao recimo ovaj ispod (srednje teška kategorija). Light & fresh doručak, omiljen ovih dana.
TREBA VAM:
- 1/3 cup fresh lemon juice
- 1 tsp fresh lemon zest
- 5 tablespoons sugar (ja stavljam  mnogo manje, oko dve, tri kašike žutog šećera)
- 1 large egg
- 1/2 teaspoon vanilla extract 
-  plain low fat yogurt                                 
- omiljeni musli
A POTOM:
Izmešate sećer, limunovu koru i sok na srednjoj vatri dok se šećer ne istopi. O udvojenoj činiji ulupajte jaje, a potom dodajte polako, bukvalno kap po kap ovaj limun mix koji ste prethodno napravili, i dalje naravno mutite. Kad završite s tim (proces traje par minuta) vratite ga na vatru. Linunova kora će se along the way odvojiti, nju sklonite, i mešate masu sve dok se ne zgusne. Skonite ga s vartre, dodate vanilu i Voila!
Kada se sve to ohladilo, u času stavite musli, dodajte jogurt po želji i jednu kašiku limun mixa. To je to. Zvuči komplikovanije nego što jeste. Možda ćete kuburiti malo s tom limunovom korom (God knows I did), ali bez obzira – vredi, ukus je fenomenalan.
Ono što vam pretekne od mixa, komotno može da stoji i po nekoliko dana. Mi smo ga doduse pojeli tog istog dana… zato što smo izjelice. :)
beautiful pics and recepie via poppytalk
♥ stil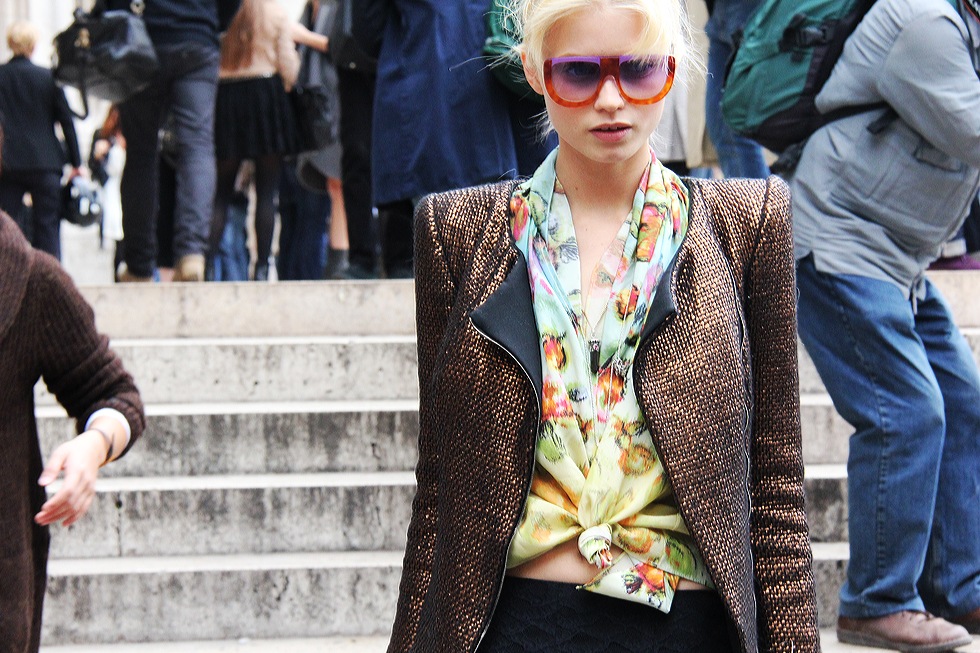 sa sve ovim novim fendi đozama. sram je bilo…