Pre nego što krenem, moram da se malo iskukam. Čitav drugi deo Brick by bricka je izgubljen. Sve te divne fotkice koje sam prikupljala – Gone! Lost! Vanished! Tugica…
Zbog toga mi je i trebalo ovoliko dugo, da se prvo saberem, a onda okuražim da iznova češljam i tražim.
Uglavnom – evo ga. Come on in.
HALLWAY:
Šta biste voleli da dočeka s vrata?
Od kako živimo u ovom sad stanu, u kojem ne postoji to predsoblje, ta neka među-prostorija koja služi kao vakum,  nego pravo s vrata zabasaš u kuhinju – shvatila sam koliko ja u stvari cenim tih nekih X kvadrata u kojima imaš priliku da se nekako asimiluješ na novi ambijent. Da ne kažem odložiš jaknu i ključeve, imaš štek za flajere za food delivery i tome slično.
Kad sam se već dotakla odlaganja jakni, ključeva, flajera i pošte - ultimativni komad za storage. Indie furniture pravi ove storage units koje me raspamećuju. (prva slika)
Ili možda ovako nešto. Simplicity na delu. Kraljevska klasika.
TRPEZARIJA:
Sad tek shvatam da mi je prvom delu "ostala" kuhinja, i da nisam baš najinteligentnije rasporedila prostorije. :) Pfff…. Ništa, možda će ovako biti interesantnije.
Ja te "ručaone" u principu ne viđam često. Gomili ljudi je to u sklopu kuhinje (u vidu stola ćušnutog u ćošak). Uglavnom, što se trpezarije tiče, ja sam analfabeta. Brate, ne znam čemu služi, majke mi. :) Bahato ko drugo kupatilo. :))
Ok, sad sam ozbiljna. 
Kompozicija od tri slike pod imenom "komparacija". Pozitiv, komparativ i superlativ.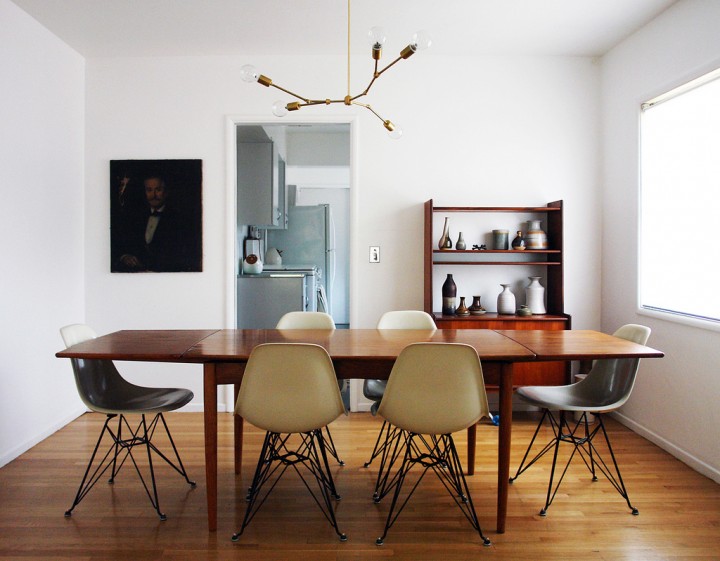 Ovo dole mi se naprosto namestilo tako. U prikupljanju svih onih pogubljenih fotografija, krenula sam random da  nižem sve na šta naletim i ovo je takozvano "zeleno parče" tog niza skupljeno sa različitih strana.
Od ovog bi bila jedna poštena, zelena trpezarijica. Muška i rough. Can you see it?
Mrtva sam zaljubljena u trpezariju gospođice Sare Ilenberg. Eto, tako bi otprilike izgledalo nešto po mojoj meri. Girly i sa određenim twistom. Obratite pažnju na slanik. Carica.
Ili ovako nešto. Čisto, belo, osunčano. UH, kako bi se lepo doručkovalo u ovoj beloj varijanti.
A Dream Come True
Pa zatim jedna upgradeovana klasika. Sve je jedna prostorija.
Andrea Ferrari – i njene tri verzije. Poslednja fotografija je trpezarija Günther H. Stelly-a, " chief designer of the factory Edsor crowns". Sve četiri neguju rustičan šmek.
KUPATILO:
Jedino što sam do sad shvatila da je MUST je - kada. Ja naprosto volim kadu i dok god je to moguće volela bih da je imam u sklupu kupatila. Ni jedna tuš kabina na svetu ne može da zameni penušavu kupku. I rest my case.
Dakle, optimalno bi bilo da je u pitanju velika , bela i quirky kada. Kada sa twistom. Sa ovim stilizovanim nožicama npr. A koncept je – snežno i belo i mlečno. Bez odstupanja. Plus neizostavni prozori, naravno.
Božanstvena Provence kada by Moma Design.
White Brick Tiles!
Zatim, sa mečnog belog prelazimo na crno-belu "šmizla" varijantu.
U idealnom univerzumu his & hers deo se podrazumeva.
I dalje smo u crno-belom mood-u. Pixilated shower!
Savršeni detalji.
Soft Blue varijanta.
U principu, jasno je do sada, bar što se kupatila tiče – nisam previše raspoložena za boje. Naprosto, belo kupatilo je belo kupatilo. However, ovaj plavi, country fazon deluje opasno dobro .
And finally – let's bring the garden in!
OK. To bi bilo to za drugi deo. Treći deo hopefully objavljujem uskoro,
so please stay tuned!
____________________________________________