"I wanted discipline, severity and fetish!"
Mr. Jacobs je konačno uspeo da me oduva. Ja inače ne padam tako lako na njegove kolekcije. Priznajem mu svu genijalnost ali meni to nekako nije dovoljno. "Pretty fashion" me umara. Ja volim bezobrazluk i kraj.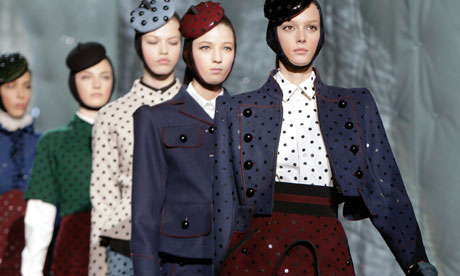 Beretke, polka dots, guma, široka ramena, patch pockets, suknje ispod kolena… Krojevi su fantastični. Blade Runner – Rachel fazon.  Vintage eklektika. Ima nečeg prepoznatljivo  sci-fi u kolekciji.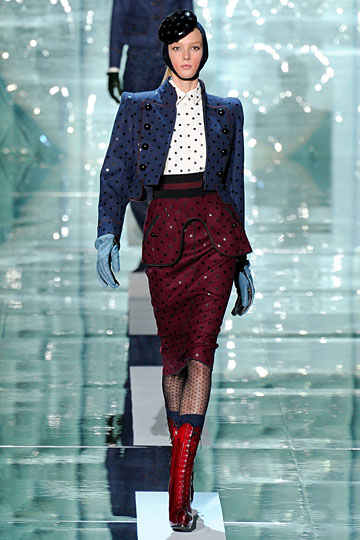 A boje… I dalje su u igri, s tim što je kolekcija dobila adekvatnu vetrovitu jesenju paletu.
Prvo – moram još jednom da se vratim na tu krljušt od gume. Brilijantno, majke mi! O tome vam pričam. Mora da postoji taj element neočekivanog i drskog, u suprotnom je bezlično. S druge strane taj bezobrazluk mora da bude opravdan i smislen.
Dakle, Marc je ostavio jednu strogu i svedenu liniju - pencil skirts visokog struka - tako se najlakše orijentišem  kad presabiram ustiske. Iskoristio je highlights 40-tih i 50-tih i ubacio te sassy, ludačke gumene detalje ili ogroman torzo u krojevima.
Pa onda te ogromantne tufne… Otkidam na tufne pogotovo u crno belim varijantama. timeless chic! All the way. ( that's the proper way… by the way :))
"The idea of personal improvement played out in another way, because many of the things the designer put on this runway were redos of his own oeuvre. Take the polka dots, for instance. The first collection he showed in New York 20-odd years ago was covered in spots."
Dolazimo do mog omiljenog dela u kolekciji.
MJ GEOMETRIJA
Minimum dvanaest razloga za padanje u nesvest . Neću ih nabrajati. Fastfoward na modnom kosmičkom satiću.  Ovo je to po čemu ću ja pamtiti kolekciju.
Priča se nastavlja u tom smeru. 64 modela. Red tufni, red tihe patnje, red eklektike. Ne nužno tim redom. Pred sam kraj veličanstven vatromet tila i krojeva (tu sam negde oko 50-tog zapalila cigaretu, videla sam da će ovo da potraje)…
------------------------------------------------------------------------------