HELLO DOLLY
Neću da se pretvaram kako sam kul pa da gustiram priču, ne umem to i ne ide mi, plus mrzim tu napadnu spontanost. A i činjenica je da pored ovakvih stvari pokazujem prve OCD simptome… There, I said it.
Viktor and Rolf su pre nekog vremena napravili seriju lutaka koja bi trebala da predstavlja nekakav omaž ili bolje suma summarum  njihovih kolekcija. Najbolji momenti, detalji i komadi – all wrapped in one (htedoh reći pedeset pet).
Čini mi se da je kolekcija lutaka prvi put izložena još 2008-me u Barbican galeriji… Ali to nije sve. Ovaj duo konstruisao je i dollhouse ogromnih dimenzija – tri sprata, sa pedeset pet prostorija, po jedna za svaku od ovih dollies.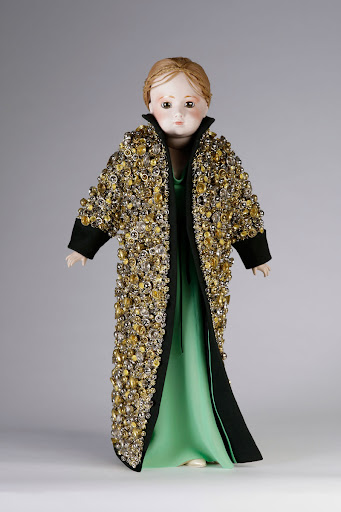 A lutke… life-sized russian dolls (a svi vi dobro znate kako se ja osećam po pitanju matruškica i ostalih ruskih lepotica). Da budem preciznija 25 inch dolls mu dođe nekih 60-tak cm. Dakle, povelika jedna dama.
OK… Priznajem – malo te tu i tamo prođe jeza. Nema nikog ko nije pogledao bar jedan horor film u kome su lutke sličnog profila uključene u unholly act of some sort.
Ali posle dva, tri košmara, kad situacija slegne, kada se presaberete i setite V&R opusa i njihove estetike – jasno vam je da je u pitanju pure awesomeness, ništa manje od izvrsnog. Fricking piece of art, I tells ya.
Detalji su preslikani sa originalnih komada zastašujuće precizno. Svaki obod i šav je na mestu, svaki mini nabor. SVE. JE. PERFEKTNO.
Ne znam šta drugo da vam kažem…
Možda – ćetvrti stepen komparacije? Toliko sam (zakasnelo) oduševljena čitavom ovom pričom, da bih o ovome mogla da trtljam u nedogled. Al' neću. Zato što sam karakter.