Drveni, masivni komadi su moja nova pasija. Nga Waiata je bila uvod, ovo je razrada. Liv Blavarp, Norwegian wood wizard pravi ove moderne skulpture za vrat.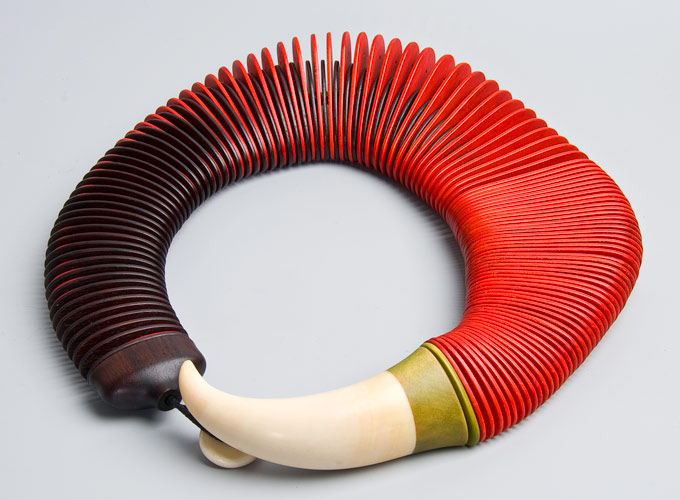 Intervju sa njim, u kome ćete saznati više o Yamaguchi-u, možete da pročitate ovde.
Ja se neopisivo ložim na ove gumene Swatch satove i taj 80's vibe koji odašilju. Dođe mi da se ubijem kad pomislim da sam svoja tri komada zaturila negde u selidbama. Uglavnom, zateknem se slučajno na zero1blog-u i imam šta da vidim. Svi ti prekrasni primerci, uredno sortirani i fotografisani… čini mi se, samo za mene.
That reminds me! 
U sred ovog trabunjanja oko Swatch satova - jeste primetili trend? Right up my alley.
♥ Tatueringar (Tattoos) by Gösta Werner
Miss Moss je neopevana carica. Šnjurala je po Bukowskis i iskopala ovo blago.
A tu je i Marilyn Monroe in Vogue, 1962 by Bert Stern
♥ The Beatles by Oliver Barrett
Znate sigurno za onu podelu – Beatles vs. Rolling Stones, Sindy Loper vs. Madona, Prince vs. Michael Jackson, etc…
U tim podelama ja sam: Beatles, Sindy Loper i Prince.
Konačno sam uspela da uđem u trag ovim slikama.
♥  Pehar by Emmanuel Jules Joe-Descomps
Pimp my vine, Jules! :)
♥ Maison Martin Margiela rings
Detalji sa najnovije kolekcije su me oduvali. Ne uspevam da provalim kako se nose i koja je fora sa ovim alkama. Nevertheless…
That reminds me!
 Jean Paul Gaultier is killing me! Đozle su to die for.
Fotografije koje su zagrejale moje kaubojsko srculence…
♥ Sharing is caring!
Dve fotografije via The U.S. National Archives' photostream koje me bukvalno opsedaju. Na njima piše "Youngster Unknowingly Has Shared Her Ice Cream Stick with the Dog", ali ja sam ubeđena da je klinka znala. Htedoh reći, ja želim da mislim - kako je ona  svesno častila svog četvoronožnog, repatog prijatelja drugom polovinom sladiške. Baš kao što sam i ja svoje pse…
♥ Henri Matisse
Kompletno sam zaboravila koliko ga volim, sve dok na *Huismus photostreamu nisam naišla na ovaj set.
U pitanju je biblioteka, ni manje ni više…
A pure and elegant Platonic cube here matches the unity of the building's purpose and form, in both programmatic and metaphorical terms. The first floor is completely closed and contains stacks for a library of books. The second floor, which is entirely open, is a scholar's working study. The study sits on the books below much like scholarship rests on the body of work that precedes it.
♥ Ovo…
perfektno zaokružije sve frustracije povodom studiranja filozofije. :/  (Hvala, Edi!) 
♥ Burial, Four Tet & Thom Yorke
PUS PUS