Hans Silvester  me je gađao ravno u srce sa njegovom suludo božanstvenom knjigom - Natural Fashion: Tribal Decoration from Africa.
PRESS PLAY AND CONTINUE
Kakve su to samo boje i flamboyant detalji, u jednom plementitom skladu. Bujica nekakve čudesne lepote na koju se zapadno oko nije sviklo, lepote koja ne hoda istim putem dvaput i koja nije vezana nizakakve poznate obrasce.
Amazon kaže:
The scene of tribal conflicts and guerrilla incursions, Ethiopia's Omo Valley is also home to fascinating rites and traditions that have survived for thousands of years. The nomadic people who inhabit the valley share a gift for body painting and elaborate adornments borrowed from nature, and Hans Silvester has captured the results in a series of photographs made over the course of numerous trips.
Divlje i neukrotivo, i podjednako driljivo. Poreklo ove fascinantne tradicije se izgubilo tokom godina. Ovo mesto je postalo poprište plemenskih obračuna i gerilskih ratova. Jedno je doduše izvesno - egzotično cveće i bujna vegetacija na području granice Etiopije, Kenije i Sudana žestoko inspirišu.
List ili koren kao detalji, ogrlica od bananinog lišća umesto šala, bokor trave kako šešir, cvetni veo, kruna od perja, dinje (!) i različitog šiblja,  tribal maske od pigmenata iz kamenog praha i ogrlice od pužića.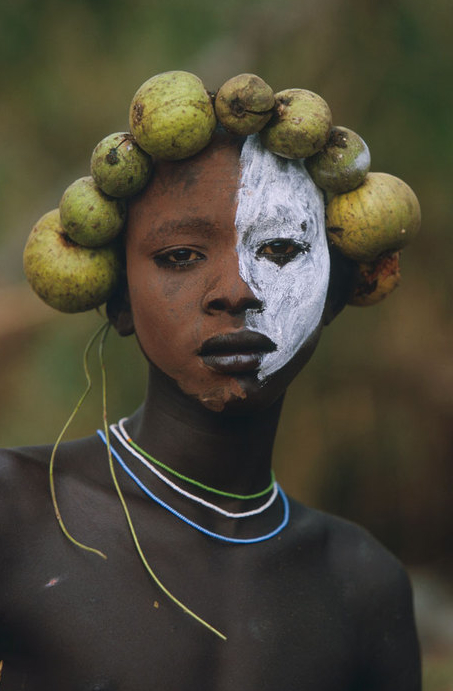 Prateći isklučivo sopstvenu sirovu intuiciju, ove fotografije se približavaju onome što ja osećam kao autentični izraz njih i njihove fantastične životne sredine. Tim pre što ova autentičnost nije usiljena i namerna. Ona je spontani rezultat spleta okolnosti i činjenice da je praktično neponovljiva.