♥ This Cat
Svi koji me iole poznaju rekli bi vam iz topa da ja nisam cat person. Nisam ni blizu. U toj večnoj cats & dogs borbi, ja sam vrlo odlučno na ovoj drugoj strani. Mačke su mi potpuna enigma, nikako ih ne čitam, ne umem da im doskočim. Moja mačka je bila jedno vrhunski nepouzdano stvorenje, da ne kažem gadura, te sam se posle jednog takvog neohrabrujućeg iskustva, zauvek prešaltovala u ovaj drugi tabor.
But, let me tell you something… This sneaky little lady is something else. Snežno bela lepotica sa različitim okicama zove se Milktea, as in tea with milk, to jest čaj sa mlekom. Ona je jednostavno toliko neodoljiva da mi se čini da bih mačkama, samo zbog nje, dala drugu šansu.
Milktea ima svoj set (fan klub) na Flickru koji broji preko hiljadu fotografija, na kojima najčešće možete da pročitate komentare poput "We want your cat!". Potpisujem.
Kad sam se već dotakla Flickr-a, skoro sam preko Miss Moss otkrila ovaj božanstven photostream – idealan za lazy tuesday melanholiju.
♥ Floral Button Down Short Sleeve
Ne mogu da prestanem da razmišljam o Niche muškim košuljama na dugmiće sa sitnim cvetnim printom. To bi mi bila haljina za plažu. Pritom, ja obožavam ovaj patern, bakine spavaćice su uvek imale ovako sitne cvetiće :)
That reminds me!
~ Planeta Design creative agency ~
♥ Last Summer
U jednoj fotografiji, ne zezam se. Mornarska majica, bižuterija i naočare sa sunce, Françoise Hardy, fotoaparat i oksofrdice. Suludo… Pic via Decor8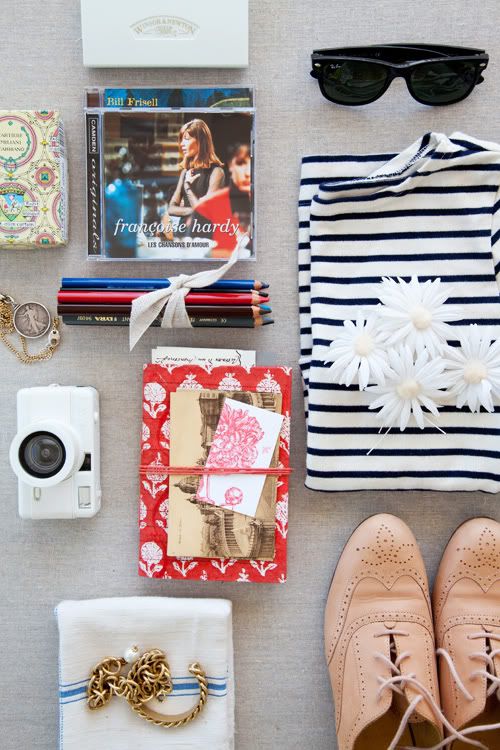 Obožavam jake, quirky detalje za stan. Mislim da se kroz takve detalje najjasnije čita vaš estetski kod. However, kada bih se odlučivala za nameštene prostore (a ne za nameštaj), dakle za kompletno završene varijante, uvek bih birala jednu ovakvu natural svedenu priču. Parket i beli zidovi, lan i svetlo drvo, svedeno i pročišćeno.
♥ Lisa Ho.
Podseća me na Marni. Predivne boje i klasični krojevi. Tu je ta čuvena našušurena punđa sa razdeljkom na stranu, dobrar komad aksesoara i minimalan make up. Ukoliko odustanem od ruževa u boji, moram da pustim obrve. :)
Možete da zamislite moje oduševljenje Mud-om, kada sam spazila ove sivo-plave tanjire. Mi imamo set zagasito sivih tanjira. Ljudima mahom taj tamniji koncept nije jasan do kraja, but I think it's just fabulous. Uglavnom, moja inicijalna ideja je bila da uz taj set nabavim i neki pastelni set, ili banana set, i da na taj nacin mogu da mix & match-ujem do beskraja. Ljudi iz Mud-a su očigledno imali sličnu ideju.
Holly Becker (Decor8) kaže :
Their smooth matte finishes, dreamy pastel colors, yummy grey and white tones — it's a playground in this store for any lover of tactile, quality goods and a full-on amusement park for the senses if you also happen to adore ceramics and collect/use them regularly.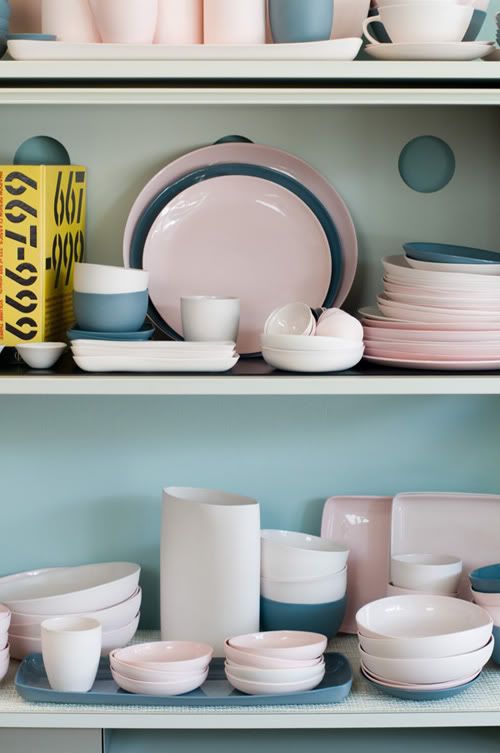 ♥ What Katie Ate BOOK
Obožavana Katie (o kojoj sam vam pisala ovde) je sklopila book deal sa Penguinom. Kakav će to treat za okice i tibu da bude! Ovo ispod je Katie, čisto da vidite o čemu se tu radi. Slatka je koliko je teška. :)
Omiljeni mađarski slikar. Na žalost, još uvek nisam uspela da vidim njegove radove uživo. Javljam se ako mi pođe za rukom.
Božanstveni materijali, izvrstan stajling, sjajne fotografije. Prati moj aktuelni greenery mood... Uključen alarm za obožavanje!
Reviju sam ispratila prilično ravnodušno. Fotke iz backtage-a… su drugi univerzum. Čisto i provetreno, pa onda ti neon detalji u ovako "anemičnom" ambijentu imaju potpuno drugačiji šmek.
♥ Bad Girls Throughout History by Ann Shen
BAD GIRLS RULE THE WORLD, SAYS I ! :)
♥ Under
The debut music video from Watercolours, directed by Reuben Stephens. Divno prati moje šmuć raspoloženje. :/
________________________________________
I za kraj gifić na koji sam se smejala čitavih deset minuta. Praske i vodeni aerobik. Priceless!
♥