Kakav lookbook... Divna, rumena paletica. Pinkish Pale Peach, kako bih to ja zaokružila u tri reči. Nestvarno meki i nošljivi modeli i plemeniti materijali (pričam o kašmiru, naravno). Udobnost i komfor na prvom mestu, a odmah posle toga jedna pitka, ženstvena priča.
Čarobne fotografije by Ana Palma.
Plus mini filmić, da možete bolje da ukačite atmosferu.
♥ Large Size Paintings and Illustrations
je pravo mesto za sve one koji vole da se pošteno zagnjure u detalje omiljenih slika. Konačno pristojne dimenzije slika i ilustracija koje volim, pa mogu da čačkam i istražujem ko čovek. God bless. :)
Gustav Klimt, Mäda Primavesi, 1912
Woop Studios je napravio potpuno nestvaran set printova sa životinjama i ponekim insektom. Ovo su moji (pinkish) favoriti. Ostatak serije podjednako šaren i radostan. Na njihovom sajtu možete da pročitate sledeće:
These original designs by Woop Studios are printed on Hahnemule archive fine art paper. We use pigment inks on 308gsm pure cotton, acid free paper to ensure a durability of 200 years. Each limited edition print is numbered, signed and embossed.
That reminds me!
Kakva jednostavna a efektna caka!!! KLIK. Tri različita seta stikerčića za prekidače : Boys, Girls and Animals. By Henrietta Swift.
Na Annu Garforth sam naletela još dok sam pisala onaj greenery post. Njen zeleni, moss ježić nije uspeo da se nađe u postu, ali ja sam se posle toga u nekoliko navrata vraćala na njen portfolio i njuškala. A ovo ispod je "keksna tipografija". Keksići ispisuju prigodno sladak tekstić… Speaking about motivational poster, this is it for me.
Engineered Garments su napravili ovu tropsku, flower print jaknicu koja perfektno zaokružuje sva moja "nešto da zagrnem" traganja. Kapuljača sa rajfešlusom, učkur umesto ranfle, a print… sa druge planete.
Pearlfisher je pre nekog vremena dizajnirao pakovanja za Crabtree & Evelyn Iris, "an alluring new fragrance for the body and home and the newest addition to the brand's bespoke Florals range".
je još jedan u nizu prekrasnih blogova o klopi. God knows I'm not much of a foody, ali uz dobre postove ilustrovane prekrasnim fotografijama počinjem itekako da cenim finu klopicu.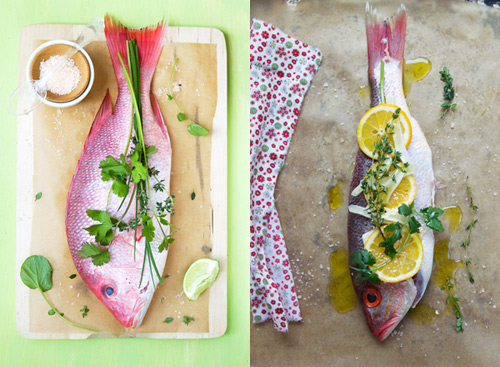 Još pre nekog vremena sam htela da napišem nešto o ovoj pravoj maloj zbirci školjica i pužića… Ne znam za vas, ali ja se sa mora uvek vraćam sa kesicom prikupljenih morskih suvenira koji na kraju uvek zaglave ćušnuti u neki ćošak. Njegova kolekcija je uredno razvrstana po kutijicama, sortirana po bojama sa katrončićima na kojima je ispisan brief info poput ime mesta odakle ih je dovlačio ili imena dotičnih školjkica. Pre-div-no!
♥ Paper Record Player
U pitanju je pozivnica za venčanje! Da, da… Pozivnica za venčanje, dobro ste pročitali.  <3
-.- -.- -.- -.- -.- -.- -.- -.- -.- -.- -.- -.- -.- -.- -.- -.- -.-