Grupa farmera kreira ove "murale", kombinujući četiri vrste pirinča (ljubičasto i žućkasto lišće su od kodaimai vrste pirinča, a zeleno je od njihove lokalne sorte tsugaru-roman). Sam proces počinje  nacrtom na osnovu koga se pravi projekcija gde koja vrsta pirinča treba da se sadi. Najpoznatije mesto sa ovakvim rice paddy artom je selo Inakadate, 600 milja od Tokija gde je tradicija "slikanja" po pirinčanim poljima počela 1993 kao svojevrsan odgovor i potencijalno rešenje za problem koji ih je mučio, a to je - kako privući turiste?
Dve istorijske figure, legendarni monk-warrior Benkei (levo) i warrior Minamoto no Yoshitsune a.k.a. Ushiwakamaru su 2010-te krasili prinčana polja gorepomenutog sela Inakadate, u Aomori prefekturi.
Prvo, ovo je ooogromno. To vam tek postaje jasno pošto odgledate filmić i spazite ljude u pozadini. A onda vas dodatno oduvaju detalji. Poput nabora na kimonu ili tračica u rukavima… ili konjske grive na nekoj od sledećih fotografija.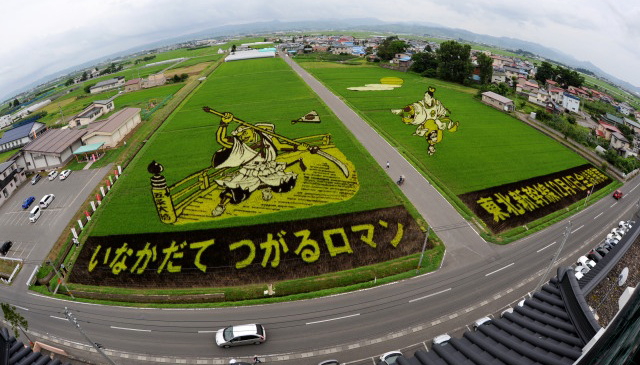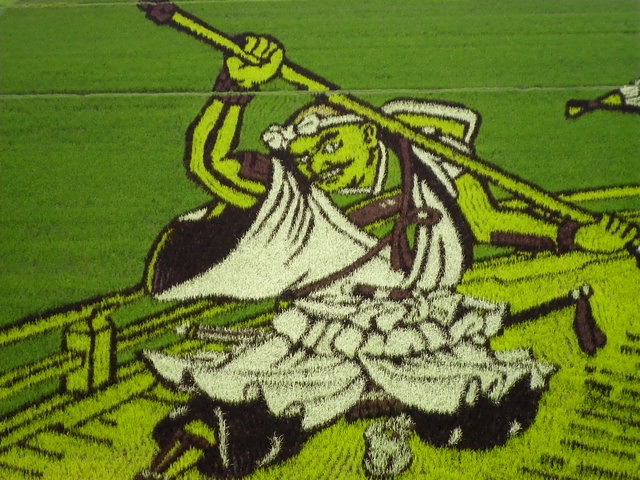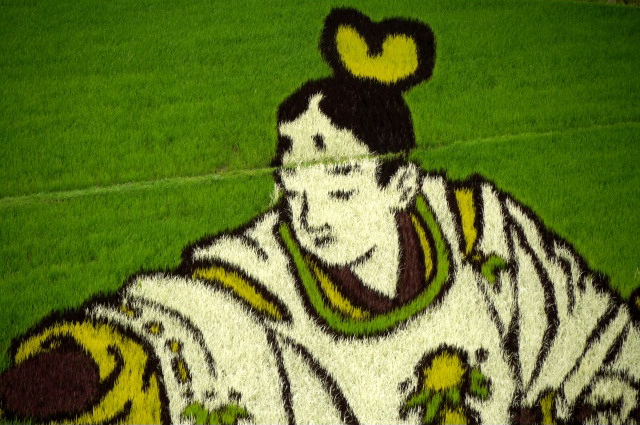 Najčešće se obrađuju folk motivi, mada ima potpunih hitova poput Mona Lize ili Napoleona. Cartoon junaci su  prilično standardni u postavi, as well.