♥ 'Print Collection' fragrances by Stella
Stela se odlučila da obuče classic "Stela" parfem u dezene svoje kolekcije. Bočice od 30 ml su limited edition i dolaze u tri varijante, tj. tri cvetna printa.
J Crew da me plati za glasno obožavanje ovim sakoom…That's it. I'm low maintenance gal.
♥ Neat braids
Taman kad sam pomislila da sam konačno iscrpela sve zamislive kombinacije pletenica i da sam s tim završila nailazim na frizure  za kolekciju Nicolas Andreas Taralisa  RTW Fall 2011. Ako neko prokljuvi kako se ovo plete, nek mi šibne neki dijagram…
♥ Flaminia Saccucci
Prošle nedelje ludo sam obožavala Stine Goyu, ove nedelje podjednako sam oduševljena fresh diplomcem Central Saint Martinsa, mesta iz koga izranjaju ljudi kao što su Stella McCartney, Matthew Williamson, Christopher Kane i evo sad Flaminia Saccucci. Ostavljam link njene diplomske revije kao i link za intervju sa njom na models1.blogu.
♥ bobbleheads by Amateur Couture
Prilično mi se dopao ovaj outrageous make-over post by Amateur Couture. Više sam se obradovala spretnom umetanju Warholovih portreta nego samim izborom outfita, nonetheless… Nicely done.
Opet sam nestrpljiva, pa Miguel i njegove prekrasne slike nisu dobile poseban post… Mislim da je tome doprinela i činjenica da sem ove galerije (do koje dolazite klikom na njegovo ime) o njemu ništa drugo nisam našla.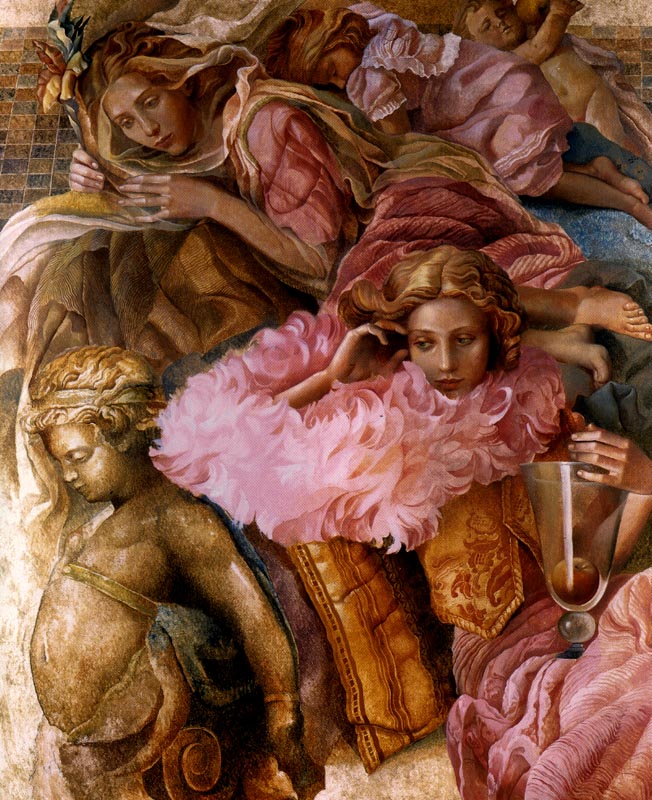 ♥ spot a difference (via I drool in my sleep)
Christina's World, 1948 by Andrew Wyeth,
Anchor and Hope, 2009 by Tom Hunter
a.k.a my new Flickr crush. Ceo stream joj je ne-vi-đen, svaka fotka je poput frejma nekog mrkog filma. Highly recommended!
♥ A Long Time by Mayer Hawthorne
Još jedan u duhu spotova koji se sastoje od recikliranih materijala TV muzičkih emisija s kraja 80-tih i početka 90-tih. Ovaj najavljuje novi album Mayer Hawthorne-a. You may remember him from such hits as "Maybe so, maybe no" and "Green eyed love". :)
-------------------------------------
sad kad napravim rekapitulaciju svega što sam natrpala ovde, primećujem da sam pristojno zašećerila ovaj C.I.L. Kad je bal, nek je bal na vodi…  za kraj vam ostavljam najslađi gifić na svetu.