Maria Corte je pre-div-na.
Mesecima se kanim da napišem nešto o njoj, kao da sam znala da će takav jedan poduhvat zahtevati pažljive pripreme, mahom zbog mog razuzdanog apetita da u ovaj post uključim baš sve njeno što mi se dopada.
Maria Corte živi u Barseloni (ehhh…), gde radi najdivnije ilustracije za raznorazne editorijale, božanstvene bookcovere za dečije knjižice, pravi samostalne izložbe i vodi presladak dnevnik/sketchbook sa svojih mnogobrojnih putovanja. Jarke boje, predivne, tanane teksture, čudesni oblici i prekrasni detalji – sve to od nje čini jednog od najuzbudljivijih savremenih ilustratora.
Njeni radovi pričaju priču namenjenu za sve uzraste. Ovo ispod je omaž čuvenoj Mary Blair o kojoj sam pisala ( i njenoj Alisi).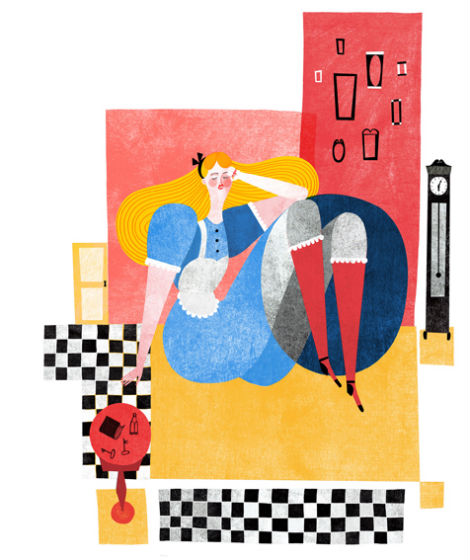 Iako kroz njen rad provejava uticaj kubizma, vremenom vam postaje jasno da je u pitanju jedan snažan talenat sa autentičnom vizijom i izrazom, skovanim od milion sitnih impresija. Ponekad neodoljivo infantilne i raspevane, ponekad zastrašujuće i turobne, u svakoj od tih formi, podjednako je ubedljiva.
Ispod, neke od ilustracija inspirisane Barselonom.
A njen portfolio krcat divotama. Kakvih sve tu vratolomija ima… Stvoreno za razledanje i uživanje, muka živa za selekciju i konačan odabir. Ovo ispod su samo neki od (mnogobrojnih) favorita.
Pa dečije knjižice – kakav me raznež hvata nad ovakvim stvarima. Po mekoći linija i pitomim bojama, gospodin sa naslovnice neodoljivo me podseća na obožavanog (i zaboravljenog) profesora Baltazara. :)
A ovako to izgleda kad ona pravi postere.
Personal work – veličanstven.
I scrapbook sa putovanja u kom pršte drvene bojice… Van domašaja svake brige, ova divna mini svedočanstva mirišu na detinjstvo. 
Dakle, sve vam je jasno. Maria Corte se voli. I prati.
::: PORTFOLIO :::
::: BLOG :::